With the improvement of people's living standards, the demand for the intrinsic quality of textiles is getting higher and higher. The mercerized cotton t shirts have appeared in front of people with their excellent characteristics and won the attention of the public. They have become popular in recent years. Many of us don't know much about mercerized cotton. Let's take a look at knowing silky cotton together.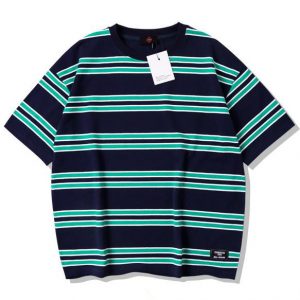 As a mercerized cotton fabric, the first question is the most worthy of attention. What are the advantages and disadvantages of mercerized cotton?
Mercerized cotton t shirt advantages:
The yarn strength is increased and it is not easy to break;
2.The gloss is increased, and the silk has a general brightness;
3.The dyeing performance is improved, the color is bright, and it is not easy to fade;
The breaking depth of the yarn decreases with the increase of the tension, that is, it is not easy to be elongated and deformed;
5.The fabric color is bright, long-term wash does not change color;
6.The fabric has the general luster of silk fabric;
The fabric size is relatively stable and the hanging feeling is good;
8.The fabric is crisp, anti-wrinkle performance is good, not easy to pilling.
Mercerized cotton t shirt disadvantages:
Especially afraid of acid, such as vinegar, if you accidentally get clothes, it should be cleaned in time;
The production process is complex, suitable for high-end clothes or uses, and the price is too expensive.
So what is the difference between a mercerized cotton t shirt and a cotton t shirt?
First of all, mercerizing is just a process of pure cotton processing. The general cotton cloth is to be mercerized, the cloth is not colored, and the surface is flat. Silk cotton t shirt is the best in a cotton t shirt. The fabric is made of cotton. It is made into high-woven yarn after worst-spinning and then processed into special high-quality yarns such as singeing and mercerizing. Mercerized yarn. The high-quality knitted fabric made of this raw material not only retains the excellent natural characteristics of the original cotton, but also has a silky general luster, and the fabric feels soft.